Over 5.5 million Australian's used a meal delivery service last year.1 With so many of us working longer hours, finding the time to prepare and cook a meal can seem overwhelming, which is why meal delivery services are a convenient and popular solution. With everything delivered to your door, along with step-by-step recipes, they take the hassle out of having to think about what to cook. Meal delivery services are also a great option for individuals who may not know how to cook or where to start. But – 'Are they cheap?' 'Are the recipes complicated?' 'Do they offer healthy options?'
I recently trialled Dinnerly. Dinnerly is marketed as Australia's most affordable meal kit. They provide simple, delicious five-step recipes that are guaranteed to please even the fussiest of eaters. Here is my experience with Dinnerly.
Dinnerly, one of the most affordable meal kit providers in Australia offers simple, traditional meals. Dinnerly uses a simple approach …

NSW, VIC, ACT, QLD, NT, SA, WA, TAS

$4.85/serve
How does Dinnerly work?
Each Dinnerly recipe contains six ingredients and can be made in 30 minutes or less. You can choose from 20+ weekly recipes, for example, creamy feta stuffed chicken, golden haloumi schnitzels and home-style chicken pot pie – YUM!
Dinnerly aims to source Australian grown and packaged ingredients where possible, including fresh, seasonal produce and proteins from local Australian farmers. Their chicken is free-range, and they always look to include canned goods with no artificial preservatives, flavours or colours, no genetically modified ingredients and no added sugar or salt.
You can choose between three to six meals per week for two people or for a family. It costs $54 for three meals for two people, which is a fantastic price. Their website allows you to add in dietary requirements such as dairy and gluten free, reduced carb, and they also provide the option to make your box vegetarian. Additionally, you can select from a 'taste profile' that narrows down the recipes based on your preferences for example 'adventurous' and spice level.
As a pescatarian, I was intrigued to see what options Dinnerly offered. Whilst there was an adequate amount of vegetarian meals, there was only one fish dish to choose from. My final selection included three meals – a sesame tofu bowl with miso eggplant and brown rice, saucy plant-based 'meatballs' with mashed potato and green beans, and tofu curry noodles with wilted kale and peanuts. For any of my vegan friends out there, there was a limited number of vegan options, hopefully, this is something they look to improve!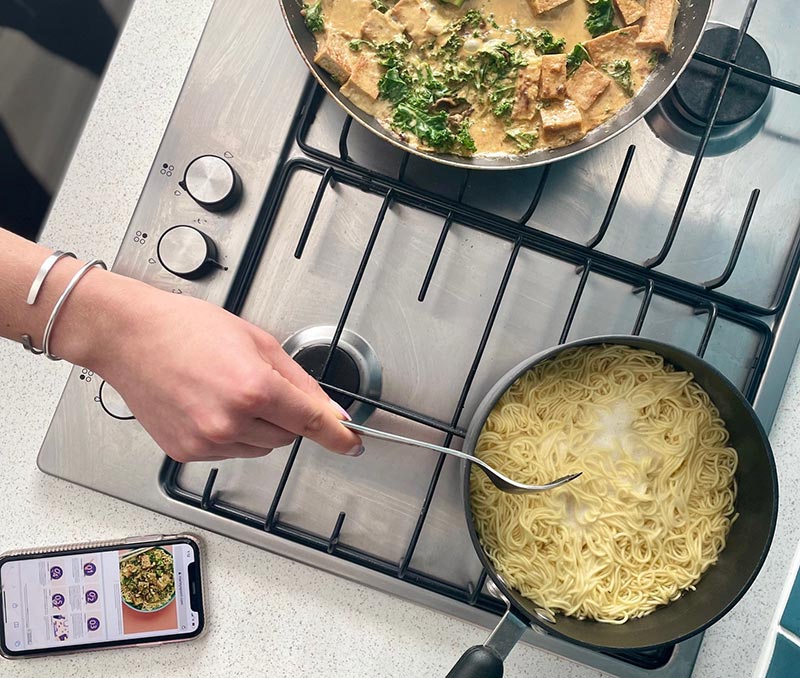 My Dinnerly experience
Unlike other meal delivery services that send printed recipe cards, Dinnerly sends digital recipe cards. The digital recipe cards were emailed to me one week prior to my scheduled delivery and I was informed that there were items I needed to purchase in order to make the recipes. These items included garlic, soy sauce, vegetable oil, barbeque sauce and Dijon mustard. Whilst I had most of these items in my pantry, I was disappointed that not all ingredients were sent in the box.
When my box arrived, the ingredients were packaged well and appeared fresh. The items however were not grouped according to the recipes. Whilst this is a minor inconvenience, having items colour coded or packaged according to the corresponding recipe can save time and confusion. As someone who loves to read from a cookbook, I found using the digital recipes challenging at first, I had to zoom in constantly on the mobile App. If you are using an iPad however, this would not be an issue. The recipes were clear and very easy to follow, taking under 30 minutes each time. I enjoy a substantial serving at dinner, so I was unsure if the serving sizes would be enough, however I was pleased to find that the portions were very generous. Each meal had great flavours; the tofu curry noodles was a favourite! However, I did find the meals to be quite salty.
Dinnerly nutrition review
Now let's get into the nitty-gritty of the meals. The digital recipe cards listed the total macronutrients of each serving, along with the total kilojoules. All three of my meals were plant-based and so I was pleased to see that the protein content was high, ranging from 20-30g per serve. Good quality carbohydrates were included with each meal, such as brown rice, which helped to bulk up the meals. Healthy sources of fats were also included in the form of nuts, however, I would have preferred olive oil to be used in the recipes as opposed to vegetable oil as this is a healthier oil to cook with.
Each recipe includes six ingredients which doesn't allow for a huge amount of variety. As a Nutritionist, I spend a lot of my time educating people about eating more vegetables. Unfortunately, Dinnerly misses the mark on providing enough vegetables, the tofu curry noodles for example only included kale.
I found each of the meals to be quite salty. Most recipes called for the addition of soy sauce which I felt wasn't necessary as the plant-based proteins provided were high in sodium. This may be something to consider if you are following a low sodium diet.
Final thoughts
Whilst the meals lacked a variety of vegetables, they were nutritionally balanced and are guaranteed to satisfy hungry appetites. Dinnerly offers a wide range of recipes that cater for dietary preferences and the health-conscious.
Due to the use of digital recipe cards, simple packaging, and fewer ingredients per dish, Dinnerly can offer meals starting from $4.85 per person making them one of the cheapest meal delivery services. Dinnerly is a convenient, quick, and simple meal delivery service that is suited to everyone from beginners in the kitchen, or those who are just simply looking to save time.
Dinnerly Meal Kit
Website & Ordering Process
Product Quality (taste/freshness)
Summary
Dinnerly is an affordable, convenient and simple meal delivery service that is suited to everyone from beginners in the kitchen, or those who are just simply looking to save time.

Dinnerly, one of the most affordable meal kit providers in Australia offers simple, traditional meals. Dinnerly uses a simple approach …

NSW, VIC, ACT, QLD, NT, SA, WA, TAS

$4.85/serve