Welcome to WellHub – Your go-to source for meal comparison in Australia!
At WellHub, we understand the importance of convenience without compromising on taste and nutrition. We know that in today's busy and fast-paced world, finding the perfect meal that matches your tastes and dietary preferences can be a real lifesaver. That's why we've created this platform to simplify your search and make it easier than ever to discover and enjoy the best ready-to-eat meal providers across Australia.
Whether you're a busy professional seeking nutritious options, a food lover exploring new tastes, or simply someone who values convenience, WellHub is here to be your companion on this journey!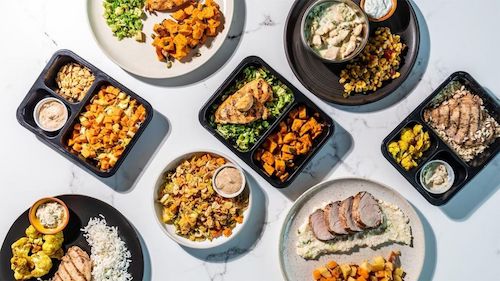 WellHub was created to help you find clarity. 
Want to wade through the B.S. of the health industry with honest guidance from qualified Nutritionist's and a team of passionate weekend warriors and health nuts alike? 
We're a brother, sister duo with a passion for all things health, wellness and of course, food. Busyness forever takes over our lives and we are constantly searching for solutions to help us thrive. From weekly meal subscriptions to monthly personalised vitamins and quarterly wellness boxes there are products, services and providers out there with fuss-free solutions to make health easy. But how do you know if they're actually suitable for you?
WellHub was born from endless web searches and discoveries to find and compare the right meal subscription provider that is actually healthy and aligns with specific health considerations or dietary needs.  
Health and wellness subscriptions tailored to you.
WellHub is the ultimate platform to compare and discover the right subscription-based service tailored to you and your needs. 
Through a simple quiz, we connect you with the provider and product that is most personalised to you.
Each provider and product has been assessed by a qualified expert Nutritionist to provide honest guidance, insights and nutritional information. We read between the lines to unpack any misleading information, questionable health claims, false promises and confusing health messaging. 
Join our team! We're always looking for savvy Nutritionists and Dietitians to showcase their expertise (& opinions) on a number of health and wellness subscriptions.
WellHub Advertising Disclosure & How we make money
This website contains affiliate links and sponsored content. When you click on these links and make a purchase, we may receive a commission at no extra cost to you. Our information, reviews and recommendations are unbiased and based on our expert knowledge and  market research, ensuring that you get the best meal options, nutrition information and deals available.
We appreciate your support, which helps us continue to provide valuable meal comparison information and guidance to our users.