Keto Meals
Whether you want to commit to the keto diet or just give it a go, subscribing to a keto meal delivery service can make this easy. We compare the best prepared keto meal delivery services in Australia so that you can find the one that's right for you.
Get personalised meal recommendations
On this page
Compare Keto Meals
How do Keto meal delivery services work?
After you've placed your order, a keto meal delivery service will prepare your meals for you and deliver them (either fresh or frozen, depending on the service) to your door. This allows you to skip the guesswork, meal prep, and clean-up. Simply heat and eat your keto meals with peace of mind that you're doing it right.
What does keto mean?
'Keto' or 'ketosis' refers to a metabolic state where: 
Your body burns fat instead of carbohydrates (glucose) for energy. 
Fat that is stored in the liver is converted into ketones, which replace glucose as an energy source for the brain. 
Blood sugar levels significantly lower, along with insulin levels (insulin is the hormone that transports glucose from the bloodstream into cells).
The aim of a keto (short for 'ketogenic') diet is for the body to undergo ketosis. While the keto diet was initially designed as a treatment for epilepsy, today it is trending for its potential health benefits – particularly weight loss and improved health outcomes for individuals with prediabetes or type 2 diabetes.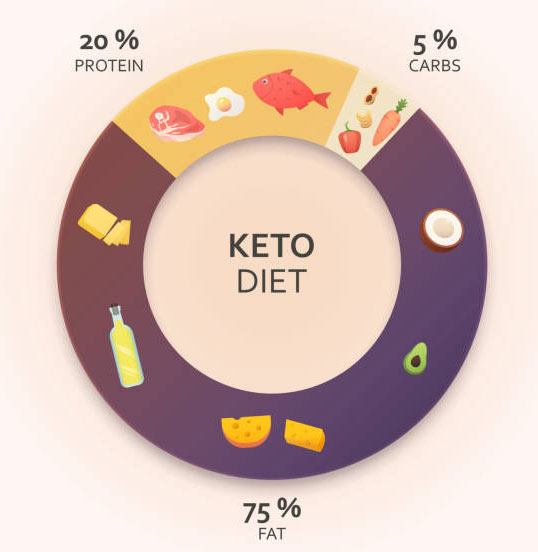 What are the Pros & Cons of Keto meal Subscriptions?
Are Keto and Low Carb the same?
It's important to note that keto and low carb are not the same. Despite some similarities between the keto and low carb diets (such as promoting wholefoods, and cutting out starchy foods), there are also some significant differences.
The main difference is that a keto diet is much higher in fat, and much lower in carbs and protein than a low carb diet. According to the Harvard School of Health, the macronutrient ratio (i.e., the ratio of fat to protein to carbohydrates) on a keto diet is approximately:
70 to 80% fat
5 to 10% carbohydrate
10 to 20% protein
The low carb diet offers a little more flexibility, with carbohydrates accounting for approximately 20% of the diet. According to the Mayo Clinic,  carbohydrate consumption on a low carb diet ranges from 20 to 57 grams per day, depending on individual goals and requirements.
A low carb diet should not promote ketosis due to having a significantly higher protein and carbohydrate content than a keto diet. Therefore, the keto diet and low carb diet have very different metabolic effects.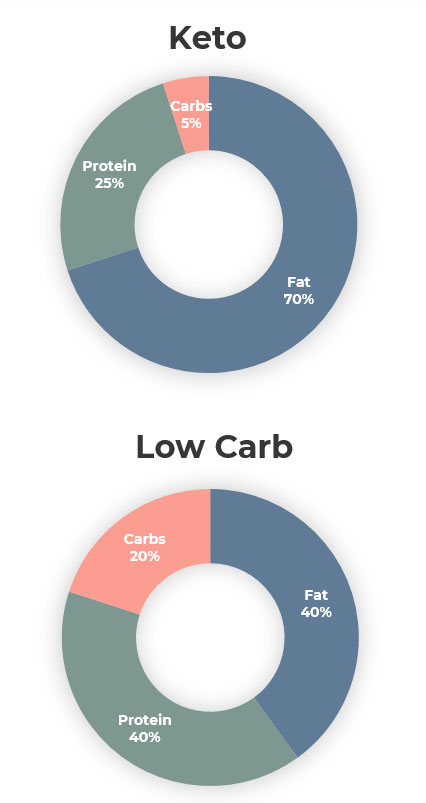 Key factors when comparing keto meal delivery providers
When choosing the right option for you, consider the following factors:
Keto, Not Low Carb
Keep in mind that 'keto' and 'low carb' are not the same thing. Look specifically for meals labelled 'keto'; if they aren't available, you probably need to seek out another meal delivery service that specifically offers keto meals.
Meal Customisation
Check that the meal delivery service you're looking at caters to your dietary requirements or preferences, such as dairy-free or plant-based. If you're vegan or vegetarian, it might not be possible to find a keto meal delivery service that meets your requirements (as the keto diet revolves around low carb animal protein). 
Quality & Flavour
These are the factors that either will or won't have you sticking to your meal delivery subscription. Check out customer reviews of the service to help you determine whether the service deserves your coin. A recommendation from a friend or family member is a bonus. 
The Fine Print
Make sure to read the T&Cs before signing up to a meal delivery service. It's also worth checking out the FAQs so you know exactly what you're signing up for.
Keto Meal Delivery FAQs